Tourists flocking to Macau grew 3.7 percent in May, with visitors from mainland China leading the pack to the former Portuguese enclave.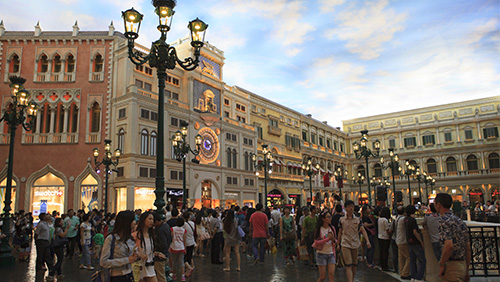 Data provided by Macau's Statistics and Census Service (DSEC) showed that Macau welcomed 2,570,428 visitors in May 2017, higher the figures posted during the same period last year. But in terms of month-to-month comparison, May's number fell 6.3 percent from April 2017.
Overnight visitors (1,376,336) went up by 14.2% year-on-year while same-day visitors (1,194,092) decreased by 6.1%. The average length of stay rose by 0.1 day to 1.3 days; overnight visitors and same-day visitors stayed an average of 2.2 days and 0.2 days respectively, the same as in May last year.
May's reporting period included a Chinese holiday period surrounding the May 1 Labor Day, known as Golden Week.
According to official data released by Macau's Public Security Police and the Macao Government Tourism Office, a total of 375,000 visitors arrived in Macau during holiday period, up 6.7 percent compared to 2016's holiday.
Once again, mainland Chinese visitors boosted Macau's tourist statistics, rising 4.4 percent year-on-year to 1,702,578 in May. Mainland Chinese travelling under the Individual Visit Scheme went up by 9.9 percent year-on-year to 789,488, said the statistics bureau.
Mainland visitors came mainly from Guangdong Province (708,960), Hunan Province (77,676) and Fujian Province (67,590).
Koreans were the top non-Chinese visitors in Macau. Korean tourists surged by 50.1 percent to 72,205 in May. Macau also saw an increase in visitors from Taiwan, up 9.5 percent to 89,118, while American and Australian tourists fell to 15,461 and 6,873, respectively.